Browsing articles in "Blog"
For the past month or so, I've been working weekends (and the occasional weekday-morning) at a nice café in East Perth – Toast, by some water – which, while a fun and sometimes challenging experience, hasn't given me enough money to save for Asia-travels. Hours plummeted on the approach to Christmas, as the café is not in the shopping area, and I've literally saved about $200. (I've been paying rent to Penny's household, buying most of my own lunches, using public transport, plus random expenditure…) Every dollar helps, of course, but I need more.
Starting January 3rd, I've got a 3-week job harvesting sandalwood seeds in the countryside about 100km from Perth, which'll give me a bit more money.
After that, I need to work for another 6 weeks or so, at the café if I must but ideally something with more hours, either in Perth or more farm-type work elsewhere in the country. I want to zoom travel all around Australia: north to Broome and the Kimberley, into Darwin and south to Alice Springs and south to Adelaide, east to Melbourne, up to Sydney where I'll stay with my uncle for about a week, with a trip up to Queensland to see the Barrier Reef. As much Australia as I can fit into a few weeks!
See, I have a deadline for leaving Australia. My round-the-world ticket gave me a flight from Sydney to Bangkok (and a Bangkok to London flight), and I've adjusted the dates: I fly from Sydney to Bangkok on April 9th. I want to celebrate Songkran in Chiang Mai with two or three friends who are intending to converge there, around April 13th to 15th.
My Bangkok to London flight is on September 23rd, so I'll have just under six months to see as much of East Asia as I can afford. (I have money besides what I earn here, but obviously the more I earn here, the less of my other money I need to use.)
I'm getting very, very excited about the experiences and sights and adventures 2010 is bringing.
A small picnic with Penny and her dad – ham, chicken, chips, pesto-pasta – followed by a swim in water that didn't give me hypothermia. The southern hemisphere is fun.
To all who celebrate, I hope yours is a Merry Christmas.
Later in October, Penny and I visited the southwest of WA for a couple of days. On the way down, we stopped at Bunbury: a quiet coastal town, with a mangrove swamp tucked into the side of its river.
A boardwalk led between the trees, surrounded by those roots sticking up like long, thin fingers. I like to imagine little boats winding between them.
We reached Dunsborough, played on the beach (where we dubbed little sand-banks Boblandia and Alexlandia), and the next day set off for Mammoth Cave: first of three we visited, one of many along/near Margarent River. The road that goes from cave to cave is called Caves Rd.
Entrance to Mammoth Cave is along a wooden path. Then, we followed the path through the cave, past assorted stalagmites and stalactites and columns. My favourite part was actually the exit, up a sinkhole: climbing up, with a view of trees and shrubs growing on top of earth that supported stalactites.
On to Lake Cave, which has a very iconic structure:
The floating column. It formed when the water level was higher, and it rested on the water; with dropping water levels in the cave, it has been suspended. It's now stalactiting towards the water again. Other formations in the cave included ones resembling a citadel and a dragon, which the guide lit pink. The still water gave beautiful reflections. If undisturbed, the minerals that form the structures would coat the walkway, make rock of it. There, we also saw shawls. A collection of these elsewhere in the world is called the Silk Shop.
The next morning we went to Jewel Cave, stopping on the way at Margaret River Chocolate Factory. Bowls of chocolate drops, all three colours, sat on the counter for free tasting. I returned regularly to the milk chocolate one. They used a European recipe so it tasted marvellous. Through a glass window, we saw several people working at vans with spinning circles of melted chocolate.
Jewel Cave was my favourite. We saw so much, with another great guide. I particularly loved:
Roots, some still alive and drawing moisture from the highly humid cave, growing through the roof.
The guide led us up and down a metal walkway, past straws*, stalactites like coral, heliolites**, more heliolites, a fossilised possum, the formation like a jewellery box that one of the woman explorers decided to name the cave for.
* All stalactites begin life as a straw – a thin, hollow tube – but quickly block, forcing the mineral-laden water to run along the outside and deposit minerals to form the regular shape. Some straws do not block. The longest here is over 5m; it's one of the world's longest.
** Heliolites are stalactites that have formed in unusual shapes.
We ended the trip with the Tree-Top Walk, near Denmark. Yes.
A metal walkway gave wonderful views of the tingle trees.
• Part of the walkway.
• Pretty trees.
• Animal branch goes rawr.
Best of all, the trunk of tingle trees often splits at the base – splits and hollows, lets you walk through the tree, linger inside.
Rocks appeal to me, aesthetically – the varying structures, the way other elements like water and plant-life interact with them. I like walking among them, climbing over them (especially if they are part of a waterfall), photographing them. This post is called 'part 1′ because I will certainly be visiting more Australian rocks than those I saw on the same short trip north that took me and Penny to the Principality of Hutt River.
The Pinnacles
The Pinnacles Desert is a very small desert: a patch of yellow sand among plant-covered landscape, full of these rocks. The formation method is contested. Small stones marked a road through the yellow sand, with plenty of parking bays, and we got out often to walk among the rocks. Some were very tall, others smaller. Some fell over when nudged. (Well, one or two.)
As the sun set, we got some great colour contrasts with the bright yellow sand and the grey clouds overhead. And lovely long shadows.
(For anyone who has read a draft of my novel The Bone Queen, this is what the area containing her palace looks like. Cue me jumping behind rocks and saying, "I'm in the palace, ahhh!" to Penny.)
Shell Beach
This loosely falls under the subset of rocks: a beach made entirely of small white shells, washed up and compacted over thousands of years. Elsewhere in the Shark Bay area, we saw a quarry where shell bricks are mined. These days, the bricks are only mined to sustain historical buildings.
Predictably, this beach is not very pleasant barefoot.
Stromatolites
Stromatolites are, to borrow from wikipedia: "layered accretionary structures formed in shallow water by the trapping, binding and cementation of sedimentary grains by biofilms of microorganisms, especially cyanobacteria (commonly known as blue-green algae). They include some of the most ancient records of life on Earth." Basically, living rocks. Except for when they're dead, in a stromatolite cemetery. (That's a photo of one of several signs on the Hamelin Pool boardwalk, and is well worth viewing. Another includes talk of the "stromatolite empire" and pictures a winking rock.) Newer stromatolites are small, un-fused rocks, joining together as they grow. Others are tinted red. Some are more of a flat rock bed. Stromatolites' growth is so slow that a flat bed of them is still indented from 19th Century wagon wheels.
An entertaining side-note: Shell Beach and the stromatolites are in the Shark Bay region. Here's a map. The distance from the intersection of Shark Bay Road and the main road (where that 'overlander roadhouse' is) to Monkey Mia takes a bit over 2 hours to drive. We stayed in Monkey Mia. The stromatolites are near-ish the road intersection. Neither of us quite looked at the scale on the map beforehand. This is how I learned that "near" in Australia is a different word than in the UK.
Penny and I went into Fremantle for a couple of hours today, to eat chocolate lunch at San Churro and browse a bead shop, but found ourselves diverted by a school performance in a small market under the giant fig trees.
The school in question, I learnt from a bookmark one of its members (older student or teacher) handed out, is Prince's Cre@tive School, an Indonesian school, and a group of their young students was performing traditional dances.
We watched nine girls in bright skirts, trousers and tops – apparently Indonesia has hundreds of ethnic groups, each with their own dress, so I don't think I can find the proper words in a quick google search before bed – and headwear comprising a band that circled the head with a semicircular bit on one side. They sang, punctuated occasionally with birdcry-like sounds, and clapped. Dances included: kneeling in a line, tapping parts of their bodies and the ground, bowing and turning their heads; splitting into threes for similar motions; back in a line, three groups linking hands and rotating in front and behind each other, unlinking hands to pass the others and re-linking very quickly.
Then the whole group got onto the stage, including some girls in different dresses and their hair falling down to one side, a single white and pink flower pinned to it, instead of the other girls' topknots, and boys in trousers and white tops with red waist-sashes and headbands. They played the angklung, a bamboo instrument that each produces a single note; many together form the music. It has two bamboo tubes in a frame and, when shaken, produces the note. Here's the wiki page. They played a traditional Australian song first ("Waltzing Matilda"), then a traditional Indonesian piece.
Overall, very interesting to watch!
The bookmark, scanned, with small pictures: here. We saw the centre dance, but missed the naga.
Penny recently bought a book of mythical beasts, which I temporarily stole: to look up Tibetan creatures, primarily, for novel research. Inevitably, a few others caught my eye.
This one is from legends surrounding Alexander the Great (presumably from the Medieval Romance, with its diving bells, etc), and is called the 'Donestre'.
"It had the head of a lion, huge eyes, furry ears and a long mane that extended over the shoulders, almost to the waist. The Donestre were said to know all the languages of the human race, and would greet lone travellers in their own tongue, thus reassuring them and enabling the Donestre to lure their victims to their deaths. A Donestre kill would usually be known by the fact that the only thing left behind was the head; even more strange was the fact that after it had killed, the creature would sit by the head of its victim and weep."
I need to write about this.
Erzebet YellowBoy, the bookbinding bone-collecting marvellous artist behind Papaveria Press, has been posting each day on her blog about the miniature books forthcoming from the press. So far, we've had faux snakeskin, feathers and shells, cards and black leather.
And now: foreign coins and Turkish fabric.
That's a glimpse of what Two Coins, my short story (originally published in Electric Velocipede, issue 15/16), will look like when Erzebet takes her printer and cutting board and glue and turns it into a miniature book. I can't wait to see how she does it.
Erzebet says: "I owe Alex a heartfelt thanks for her help in gathering materials and inspiring the final outcome of her book." I thought I'd add a few words about my end of this.
I visited Erzebet for a week in August, which allowed me to delve into her tupperwares of previous books and admire their beauty. She told me that a particularly enjoyable part of the book-making process is working with the author's ideas and feedback, creating a miniature piece of art they both love. So, when Erzebet took my story, I immediately pondered any input I'd like to have in its book-form.
It would involve coins, of course.
I quickly decided that I wanted coins with holes in – partly as I thought they'd be easier for Erzebet to work with, largely because I love them especially of all coins. Lacking any in my very small coin collection, I turned to ebay. I had a lot of fun browsing auctions, finding currencies with holes in their coins, bidding. Some turned out too much in demand by coin collectors for me to out-bid and win, including a set of Vietnamese coins. Others were easy to acquire. On a couple, I suspect I over-spent; I excitedly bought a tiny, cheap Filipino one before remembering about my friend in the country, who (if the coin is current) could have probably sent me many for even less. (Well, maybe not with shipping.) Tiny packages accumulated at my house. This method of coin-acquisition was quite satisfyingly fast, a convenient thing as I wanted to give the full set of coins to Erzebet before disappearing to Australia for many months.
Fast, but not the same as accumulating coins from travels around the world. I'll keep collecting my own coins that way.
In the centre of the Grand Bazaar, away from the wide shop-lined thoroughfares with their ochre ceilings, is the Antiques Bazaar: one big room, brick and high-ceilinged, with little shops among narrow lanes. Many do not sell antiques. But in the window of one I saw boxes of coins. The shop-owner gave me a stool to sit on, a tray to empty the boxes onto so I could sort through for coins that caught my eye. I found two Turkish ones from earlier in the 20th Century with holes in their centres. Those will go on my personal copy of Two Coins.
I found the fabric in a different setting. I'd been looking around for fabrics that Erzebet might like; but, mostly, I saw pashminas. It didn't feel right to offer those up for cutting. (Instead I bought one for myself: a stereotypical tourist pashmina, squares of bright colour. It's immensely warm and accompanies me now.) In the Grand Bazaar, I found pashminas in many styles, but no simpler, cheaper fabrics. Then, walking to the Galata Bridge, I took an underpass to cross a main road. An underpass full of shops. Not the typical tourist kind, selling pashminas and fake Iznik ware and lanterns and brightly coloured nargileh sets, but ones for regular people: cheap clothes, shoes, toys. Among boring t-shirts, I found the top that Erzebet will cannibalise into book-covers.
Two Coins – the text of it – has no connection to Turkey. The fabric's patterns are blue and Two Coins, as well as coins, is about a river. But for me, the book – the physical object – will be more than a gorgeous edition of a story I love. It will be a memory of this time in my life, when I set off too see interesting corners of the world.
A short history: In 1970, Hutt River Province was created in response to a wheat production quota declared by the government of Western Australia that would have left most of the area's crop unharvested. Attempts to overturn the quota had failed. Against threats of prosecution, the Hutt River Province administrator declared himself His Royal Highness Prince Leonard of Hutt – as, under a Commonwealth law, a monarch cannot be charged. The Principality has gone unchallenged. (It did, briefly, declare war on Australia. "Hostilities" ceased within days.)
Wikipedia has a lengthier story. The Principality also has its own website.
Today, this micronation is visitable – in fact, it seems to get a lot of its income, selling stamps, coins, postcards and even passports (useless, of course, but I gather they're bought as a gesture of solidarity), from tourists. Curious – and pathetically keen for an unusual stamp in my passport – I directed Penny and her car northwards in mid-October.
This is most of it: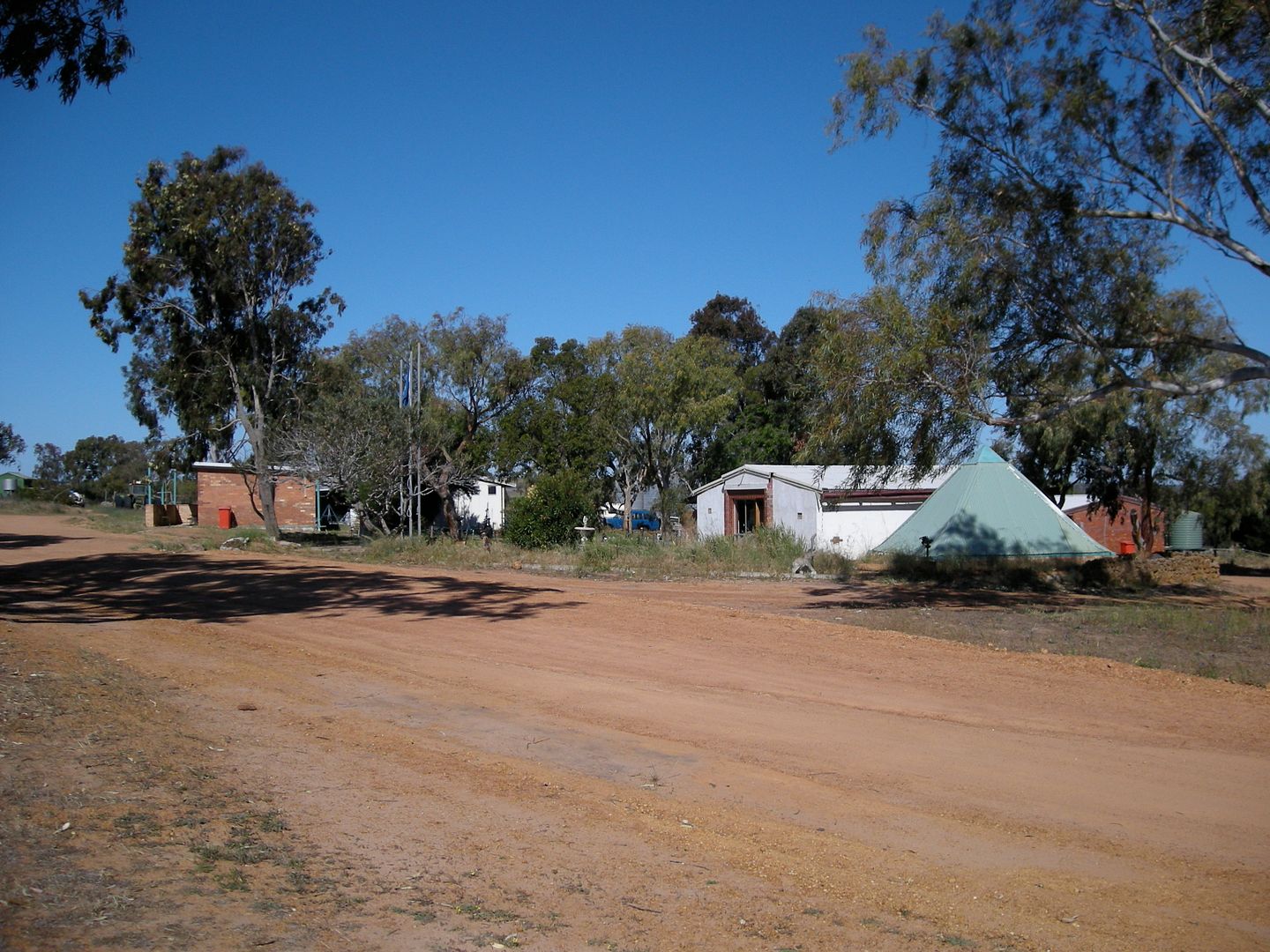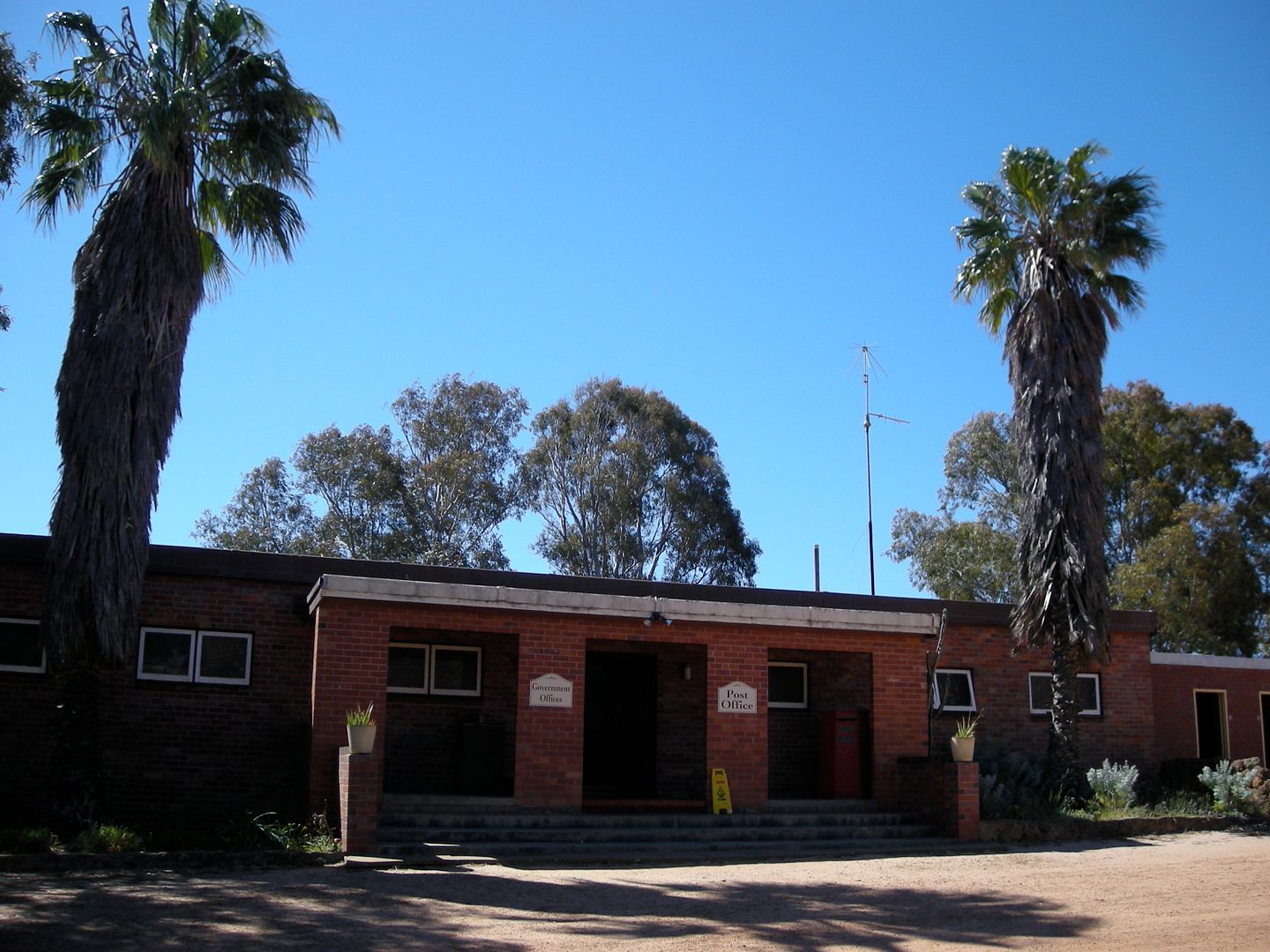 The Principality of Hutt River is about the size of Hong Kong, with about 30 permanent residents. Aside from fields and dirt roads and a sign, sticking up from a rock, that proclaimed entry to the principality, there's not a lot to see: the government building (second picture), the museum/shop, a café, a pyramid and a few other brick buildings. And tractors.
The museum was actually quite interesting: an assortment of gifts received by Prince Leonard and local items like medals for the Principality's armed forces. My favourite was a 19th-century letter, the words written in lines of varying directions to maximise use of limited space. Other gifts include those from the Chinese, who seem to like Prince Leonard and take his micronation seriously. In the government office, we saw a Chinese table used for serving tea, given to Prince Leonard in Melbourne. He paid several thousand dollars to have it trucked across to WA.
The Prince gives personal tours of the Principality and is quite the entertaining chap, joking that he got a younger image of himself put on his coins and explaining, with a wink-like tone, how his green pyramid is a centre of magentic field energy. (Or something.)
In the government office, where he stamped our passports for entrance and exit, he sold stamps and coins and paper money. I don't know if the café actually accepted that money or if they just used AUD. Unsurprisingly, no bureau de change is going to take it.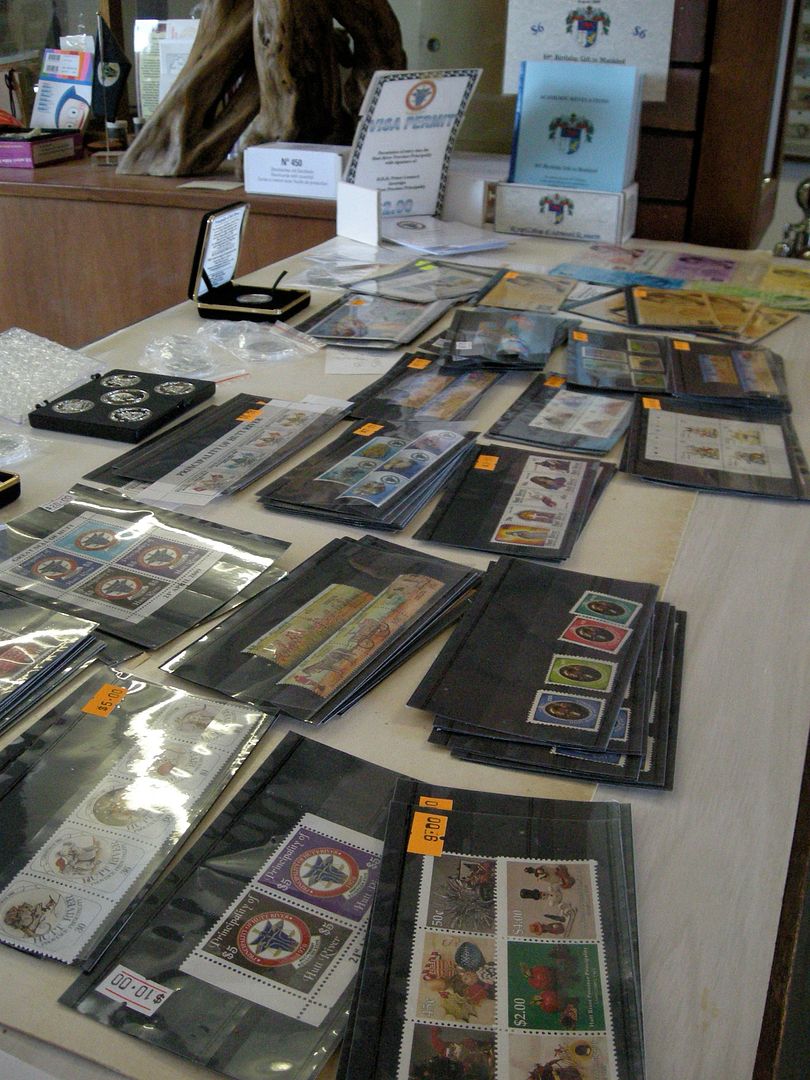 I bought a silver coin, paper money and a set of stamps, as well as a postcard from the shop attached to the museum. At one point, Prince Leonard's son wandered through and complained that his face is not put on the money.
Penny and I wandered around, to the church (containing the Prince's and his wife's wooden thrones), past a statue of Prince Leonard's head, an odd sculpture, abandoned café tables and the tractors. Then we continued driving north.
The Principality doesn't look like much in the pictures – and, in life, is a dusty place where I first encountered the Australian fly – but I enjoyed our short visit, especially meeting a man whose life truly took a turn for the interesting (and eccentric). Most people do not form a micronation and become its monarch. It strikes me as a pleasantly entertaining use of the very serious-business institution that I usually care little for. And turning currency into retail pleases me in my little surrealist heart.
I suspect I won't go to another place quite like it.
Singapore lingers, 1½ months after visiting. I spent two fantastic, full days there, staying with Jason Erik Lundberg and Janet Chui, who showed me bits of their city-island-home: temples and markets, technology malls and food-full hawker centres. It's a modern, commercial city, yet it's Asian, different in its own, individual ways.
So I give you ten things I still think of. (For pictures, click to see the full-size image at photobucket.)
1: Chilli pepper charms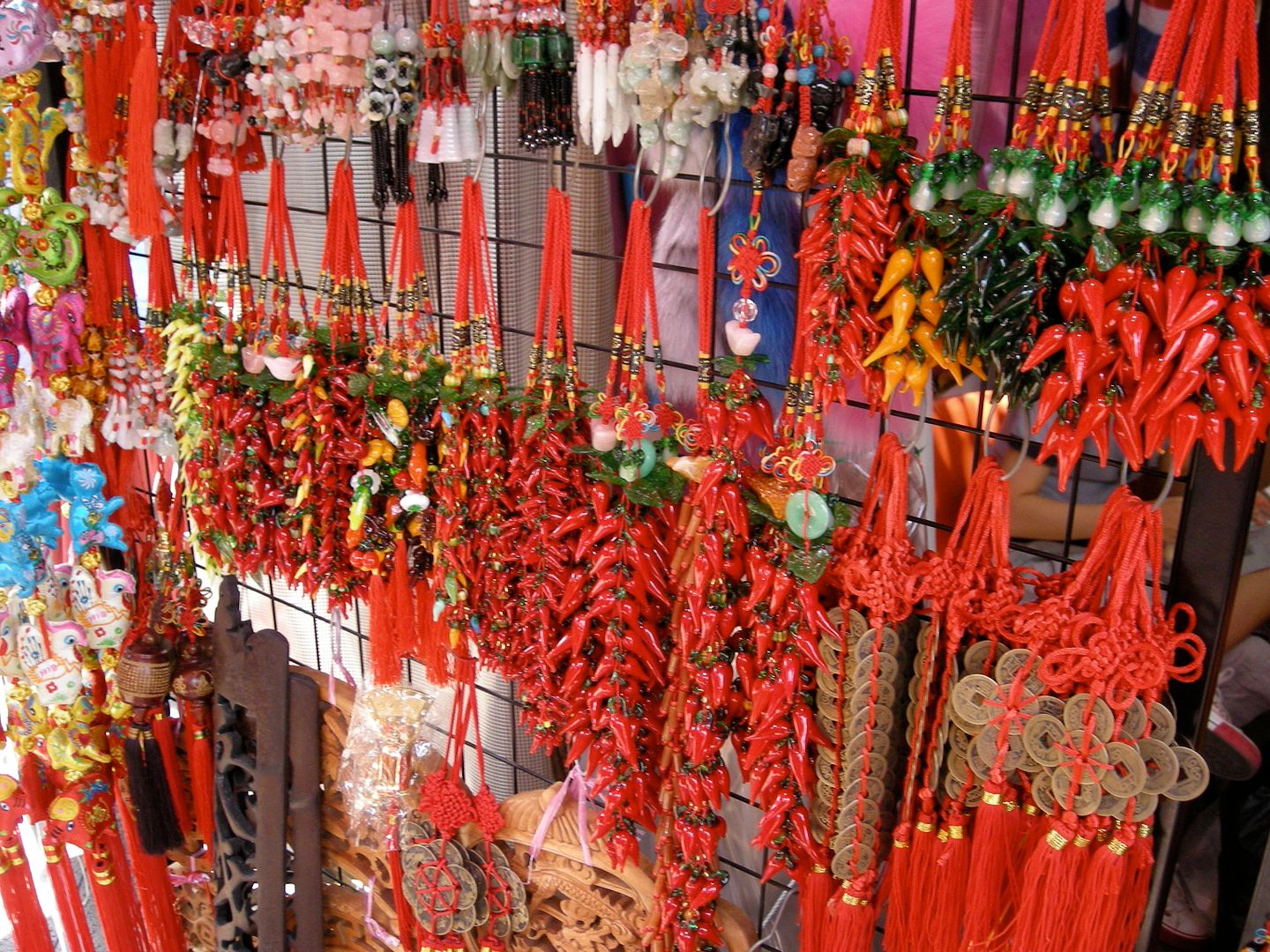 Chillis ward away bad spirits, bad influences, and are sold in glass form alongside the less surprising Chinese coin decorations. I bought one of the red charms, but I rather like that green and yellow chillis aren't entirely forgotten. (Top right.) Janet told me that, in inland Malaysia, she saw chillis lying out on plates, and questioned their purpose – and learned of their perceived protective quality.
2: Quad-lingual signs
Singapore has four official languages: English, Chinese, Malay and Tamil. Its multicultural nature was apparent in signs like this, the people I saw, the different styles of temple, the different markets and shops, little unusual-to-me items like the chilli charms above. When I've visited more of Asia, I expect I'll find it even more interesting.
3: Chwee kueh
Janet and Jason are shocked, I'm sure, by chwee kueh's inclusion on this list. I ate it twice and adored it, and miss it terribly. It's a Singaporean breakfast dish: rice flour and water steamed to make the cake, topped with pickled radish. Apparently it's surprisingly difficult to make, but I might have to attempt it some day. Or move to Singapore. It's available at a hawker centre of stalls-made-shops, where I also ate half-cooked egg seasoned with pepper and soy sauce. Food is a major part of life in Singapore and I can see why. It is oh-so-good.
Other food eaten: amazing garlic chicken (we chopsticked out rice into the sauce long after eating the chicken slices), sea cucumber, spicy vegetables called kang kong, Arabic meze, brittle-thin crepe drizzled with chocolate, mutton curry served on a banana leaf with ochra and potato wedges.
4: The market in Little India
Deepavali approached and Little India extended its arcade into a market where, for a short section, myriad decorations hung overhead. So close to shopper's heads, in fact, that one tangled in my hair. I spent a lot of time walking back and forth, staring up, and was not the only person taking photos. Others included these and these and flowers and puppets and I imagine heaven, if it exists, to be this marvellous.
5: Sri Veeramakaliamman Temple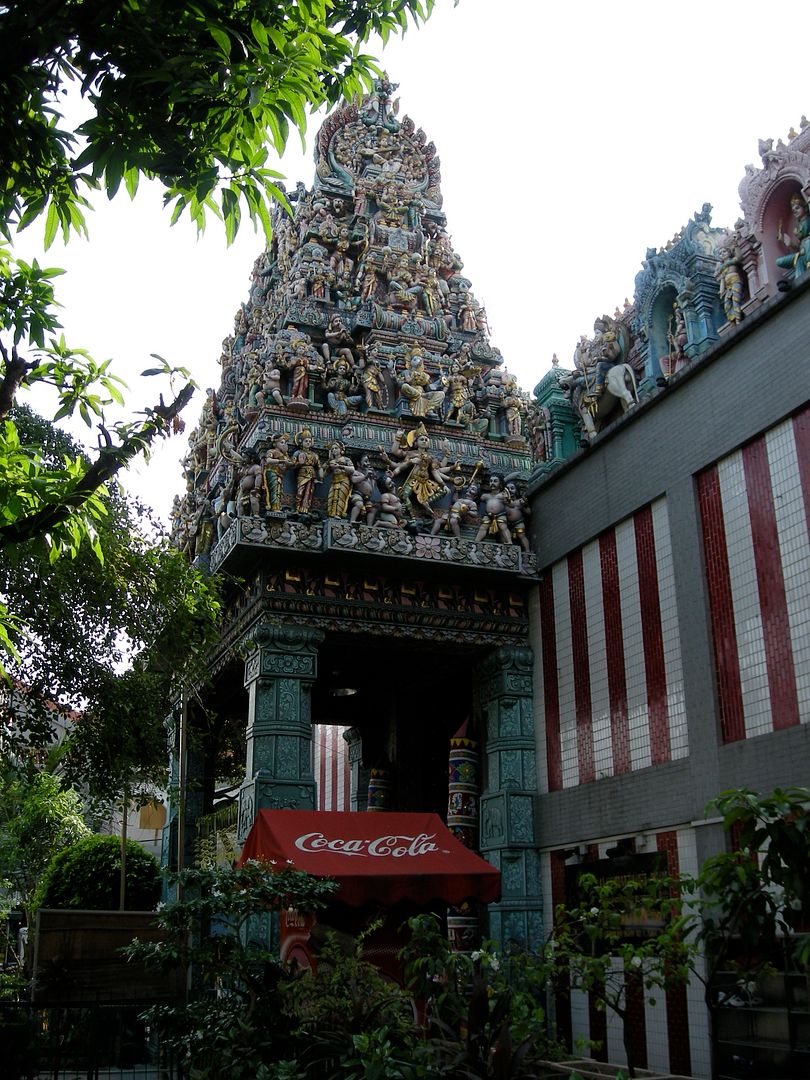 Further down the garlanded main street I found an Indian temple, glimpsed it between pavement stalls selling T-shirts and flip-flops, and walked inside with my feet bare. At the back of the small compound, people were served rice and curry on brown paper. The interior is as stunning as that entrance.
6: Shop-houses
The original buildings of developed Singapore, these shop-houses appear throughout the otherwise very modern architecture and some are gorgeously decorated. Driving in a taxi along one street, with shop-houses on either side and trees or a hill or something hiding the rest of the city, I felt in an entirely different place. Now, to live in one, you're looking at a seven-figure sum, as their historical worth is recognised.
7: The misty orchid house
This is part of the Botanical Gardens' orchid garden: a mist-house, very refreshing after the day's heat, with admittedly quite mundane orchids planted in suspended bowls and on stone statues. The attendant shop took the orchid motif and ran. My other favourite thing from the Botanical Gardens is the flowers with petals that turn into reddish-pink hair.
8: Buddha Tooth Relic Temple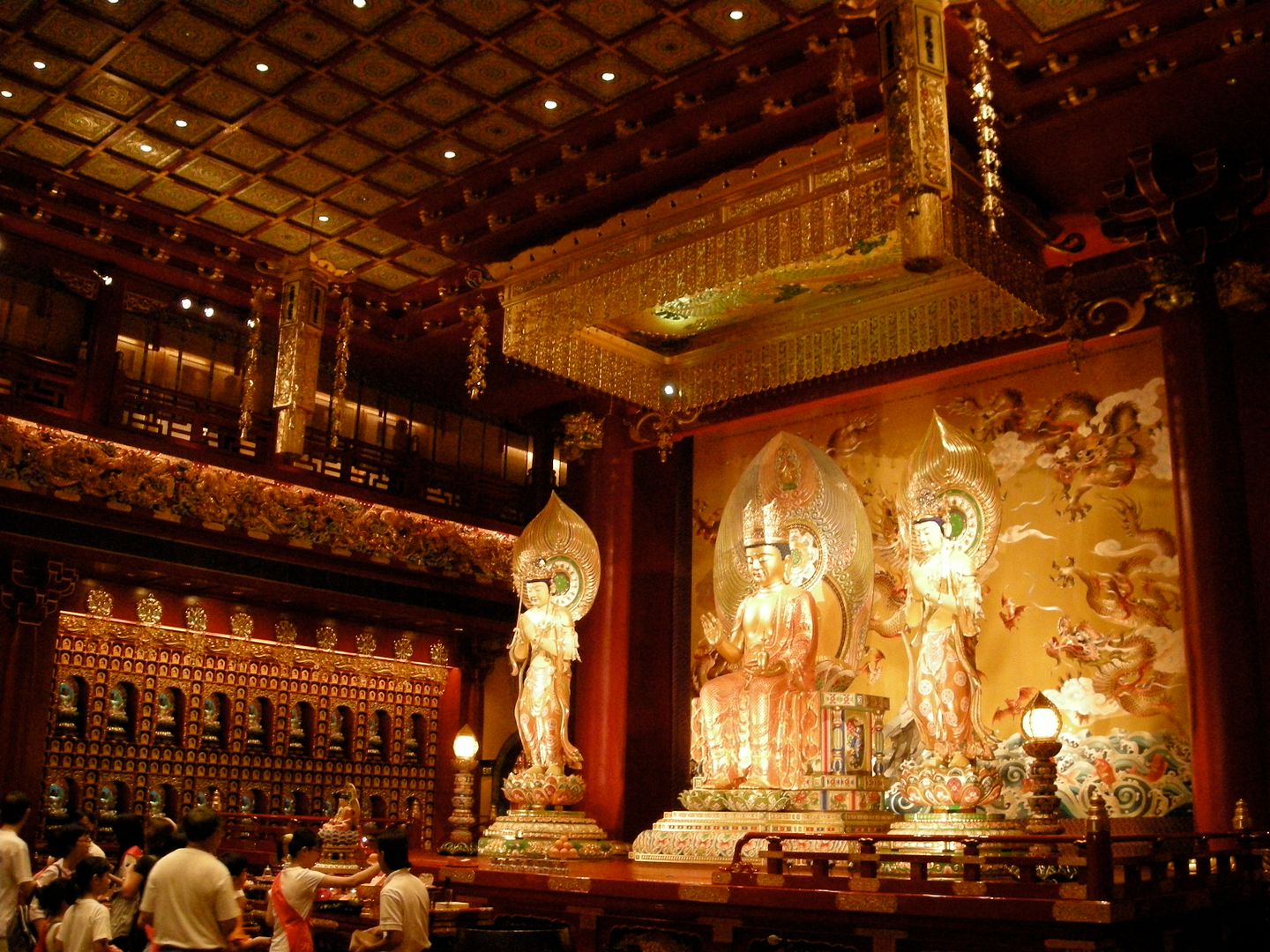 A beautiful Chinese temple, built to house a tooth allegedly belonging to Buddha – more likely to be a buffalo's. Still, the room upstairs where the tooth's displayed is stunning, everywhere gold, sealed off so that no one walks on its gold floor and gets too close. The room pictured is the first thing I saw on entering. The walls look like this: covered in Buddhas, each miniature individually sponsored to lend support to the temple. Upstairs is also a museum and, on the roof…
9: The prayer wheel
Inside the pagoda is the beautifully painted prayer wheel, a tall, wide cylinder that Buddhists walk around, turning, to send prayers to heaven.
10: Not hell money, but… servants? a TV?
The Chinese burn hell money, sending it to their ancestors, but they also burn clothes, jewellery, watches and, pictured above, TVs and servants and designer bags. All these things are made of paper, like the hell money. I saw them for sale in the Chinatown market.
And those are my ten things. The complete photo set is here.
On my second day, I saw one sign advertising a room-for-rent and another for a job opening in a market, and I wish I could have taken both. It's a beautiful and interesting country. I loved it.
I made a super-simple website, a bit more professional than LJ, where I'll post about writing-career things (story sales, availability, etc) and my travels: alexdallymacfarlane.com .
LJ will remain the day-to-day blog, with all wordpress posts cross-posted.
Let me know if you encounter any problems, though hopefully with it being a simple wordpress template the worst you'll find is a typo. Also, is there anything else you'd expect from a simple author-site? (Besides, obviously, blog-content on the front page.)